From: ADA Press Release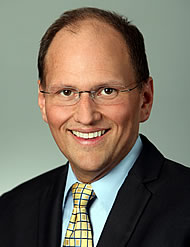 The American Diabetes Association today named Kevin L. Hagan, a proven, nationally-recognized leader, as its next chief executive to reinvigorate the national fight to end the diabetes epidemic in America. Hagan will join the Association at a time when theincidenceand costs of diabetes are at an all-time high. Recent estimates indicate as many as 1 in 3 American adults will have diabetes by 2050. Hagan was the unanimous choice of the Associations Board of Directors.
Our national fight to end diabetes is at a crossroads, said Janel Wright, Chair of the Board of Directors. For too long, our nation has seen the number of cases of diabetes go up and up while the commitment to the necessary response has shrunk. Diabetes contributes to the death of more than 234,000 Americans annually and costs have reached $245 billion, or nearly 1 in 5 health care dollars. Diabetes impacts everyonefamilies, friends, employers and taxpayers.
Hagans selection follows a six-month national search. He will join the Association from Feed the Children, one of the largest charitable organizations in the world. During his tenure as CEO, Feed the Children experienced tremendous growth after Hagan led efforts to diversify revenue channels. These efforts also increased average gift size by 20 percent, focused on long-term donor value while creating a corporate philanthropy engineering team to custom design corporate giving programs for Fortune 500 companies. Prior to his work with Feed the Children, Hagan served as chief operating officer for Good360, a nonprofit organization dedicated to fulfilling the needs of nonprofits with corporate product donations. Hagan will succeed Suzanne Berry who has served as the Associations interim-CEO since August 2014.
See more at: http://www.diabetes.org/newsroom/press-releases/2015/hagan.html