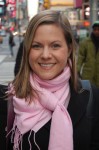 Kerri Morrone Sparling of Six Until Me
Type 1 Diabetes, September 1986
Diabetes doesnt define me, but it helps explain me. Kerri Sparling writes honestly and fearlessly about real life with Type 1 Diabetes.
Kerri Morrone Sparling has been living with Type 1 Diabetes for over 24 years, diagnosed just before she started second grade. She manages her Diabetes and lives her life by the mantra Diabetes doesnt define me, but it helps explain me.
Kerri is the creator and author of www.SixUntilMe.com, one of the first and most widely-read Diabetes patient blogs. Started in May 2005, Six Until Me has a strong and loyal readership comprised of people with Diabetes, the caregivers of diabetics, medical professionals, and those living with chronic illness. She has contributed columns to diaTribe, Animas, dLife, and is a guest columnist for many Diabetes publications. Kerri is a passionate advocate for Diabetes awareness. Fascinated by social media and its influence on patients, Kerri presents regularly at new media conferences and currently works full-time as a freelance writer and social media consultant.
Kerri and her husband, Chris, live in Rhode Island with their daughter.